The platform also unveiled a new immersive 3D format for ads called Swirl.
Beauty influencers are among the most followed channels on YouTube. They are shaking up the cosmetics industry with their wide promotions and reviews of products that viewers find beneficial before they decide on buying a certain beauty product.
YouTube, one of the main platforms for all social influencers, has come out with a new way to make viewing videos an immersive experience with its new "AR Beauty Try-On" feature. The tool allows viewers to virtually test makeup as they watch YouTube creators give tips about the products, such as how to use them.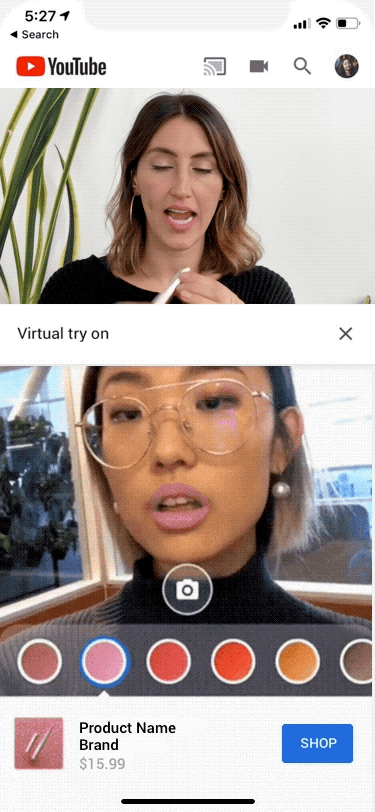 The Google-owned website said a three-dimensional, visual medium, augmented reality (AR) would help brands relay richer and more engaging stories about their products to end users.
The AR Beauty Try-On feature uses machine learning and AR technology to offer realistic virtual product samples that can be tried on by different skin tones. To mark the launch, YouTube partnered with MAC Cosmetics to launch an AR Beauty Try-On campaign.
The tool is currently available through FameBit by YouTube, a self-service influencer marketing platform where brands and content creators collaborate for branded content endorsements on YouTube, Instagram and other websites and apps.
In a blog post, Aaron Luber, head of branded experiences, AR & VR at Google, said the company trialled the feature earlier this year with several beauty brands and found that 30% of viewers activated the AR experience in the YouTube iOS app.
The launch of AR Beauty Try-On follows Google's AR integration in the Google Search engine.
Meanwhile, Google at the same time unveiled a new interactive ad format, called "Swirl," available on Display & Video 360. The technology lets customers view products in a 360-degree format as a product rotates and zooms in and out. The product is intended for advertisers, allowing companies to use 3D models for advertising on Google.