The smartphone gaming market is heating up.
Google has unveiled its latest gaming product, Google Play Pass, a move that is widely seen as the tech giant's challenger to the recently released Apple Arcade.
Android device users can subscribe to Google Play Pass for $4.99 per month, but for a limited time only, Google is offering $1.99 per month for the first year of membership. Users can also try out the 10-day free trial before opting to subscribe.
Apple Arcade, whose launch coincided with the launch of iOS 13 last week, also costs $4.99 a month for a subscription.
With Google Play Pass, Google said users can get access to more than 350 unlocked apps and games that are ad-free. Google added that the games will also be free of in-app purchases and upfront payments.
The service will roll out in the U.S. this week before Google expands the offering to additional countries soon.
Here's a snippet of some of how the game subscription service would look like on the Google Play Store, and some of the games that will be included: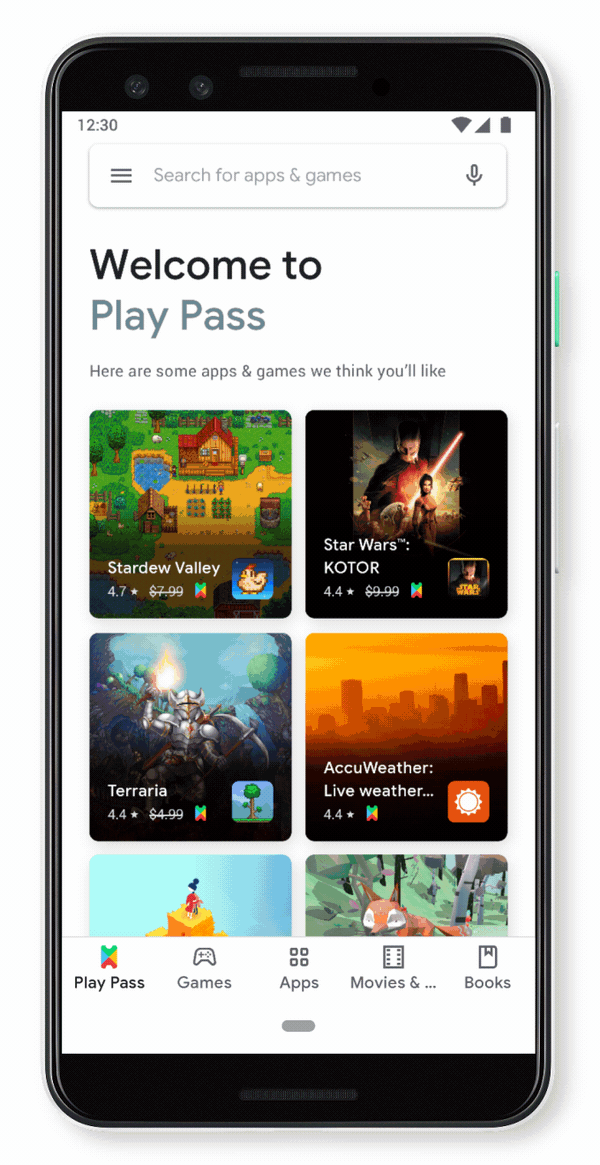 "Play Pass helps encourage people to try new experiences they would not have otherwise," Maria Sayans, CEO of Ustwo games, said in a statement.
Popular titles like Terraria, Monument Valley, Risk, Star Wars: Knights of the Old Republic, and AccuWeather will be part of Google Play Pass.
Aside from games, subscribers can also enjoy podcasts and more. Subscribers can share their Play Pass membership to up to 5 other family members so everyone can enjoy on their own devices.
Google Play Pass is compatible with mobile, laptop, and tablet devices with Play Store version 16.6.25 and above, and Android version 4.4 and above.